Svetlana Falkovskaya (Osadchaya), CEO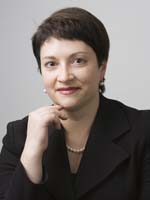 Strong professional, able to inspire trust and confidence in top business people Svetlana has been working with International companies since 1993.
Recruitment and Executive Search professional since 1999, she personally conducted 9500 candidate interviews, placing candidates in more than 360 client companies. Completed projects in 56 regions of Russia and CIS.
As a Business Coach she conducted more than 60 training programes for client companies since 2001.
Svetlana has graduated from an Architectural Academy in 1995 and Linguistic University in 1993. Since then she took more than 27 training courses on HR, management, sales, marketing, corporate finance conducted by the best training specialists. English and Russian fluent.
Since 2003 when A.S.Wellas was founded she is the owner and CEO.
Media Publications:
*"How to find a job during lunch-break"- http://www.rb.ru/office/
*"The most attractive companies for Russians" - http://www.rb.ru/career
*"Russia prepares for the first recession for the last 10 years" – Russian newsweek N 32,2008
*"What other offers do you consider? How to answer this question" - http://www.rabota.ru
*"Job market tendencies of the 2007: why there is a shortage of highly qualified staff"
*"The ability to find and hold on to right people is one of the main growth accelerators of the company", "Novie Delovie Vesti", Volgograd, February 2005
*"How to dismiss an employee correctly", "Leader's Journal", Volgograd, August 2004
Scheduled flights
07 Aug 2022
15:16
| | | | | |
| --- | --- | --- | --- | --- |
| Destination | Flight | Time | Airport | |
| | | | | |
| --- | --- | --- | --- | --- |
| | ЖИ1299 | 09:45 | DMD | ± |
| | ЮТ3777 | 11:00 | ВНК | ± |
| | ЖИ1311 | 12:00 | DMD | ± |
| | 7Д452 | 07:00 | ШРМ1 | ± |
| | УН205 | 22:45 | DMD | ± |